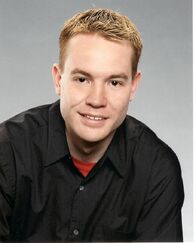 Andre Graystone is a characters from Wes Imlay's Battlestar Victorious (Series). Andre is the brother to Emily Tolan (nee Graystone) and Andrea Graystone.
Volume One
Edit
Andre is a pilot on the Battlestar Atlantia at the time of the Cylon attack. He is sitting in his Viper when the Cylon shut down the Atlantia using the CNP. He is later save by SAR team, along with most of his squadron.
Volume Two
Edit
Volume Three
Edit
Ride of the Valkyrie
Edit
Andre also appears in the Ride of the Valkyrie.
Ad blocker interference detected!
Wikia is a free-to-use site that makes money from advertising. We have a modified experience for viewers using ad blockers

Wikia is not accessible if you've made further modifications. Remove the custom ad blocker rule(s) and the page will load as expected.