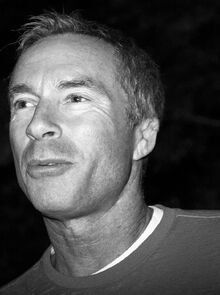 Forty one year old Axel Nikitas was an officer in the Colonial Fleet and, after the Second Cylon War, the overall commanding officer of the Colonial Remnant Force. Nikitas served within the Colonial Fleet for twenty years, attaining the rank of Commander at the relatively young age of thirty seven. He served as the commanding officer of the Valkyrie-class battlestar Yeoman for a year before he transferred to the Cerus-subclass battlestar Cerus for three years. The Commander was promoted to Admiral by the Remnant Fleet commanding officers after the Second Cylon War started.
After Cerus' sacrifice to save the Remnant Fleet, Admiral Nikitas transferred his flag to the Olduvai-subclass battlestar Atromitos.
Ad blocker interference detected!
Wikia is a free-to-use site that makes money from advertising. We have a modified experience for viewers using ad blockers

Wikia is not accessible if you've made further modifications. Remove the custom ad blocker rule(s) and the page will load as expected.