The Battlestar Spartan is the first Spartan Class Battlestar to be built.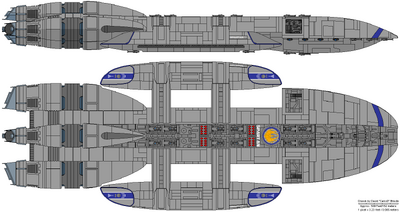 Image created by CanisD.
The Spartan Class is a similar design to Jarrod Davis (BlueEagle1) Spartan Class Battlestar. This is because original BlueEagle1 Spartan Class Battlestar was used for the Spartan Class Battlestar. However, after seeing the top view, Allen Knott's has CanisD design a new version.
Ad blocker interference detected!
Wikia is a free-to-use site that makes money from advertising. We have a modified experience for viewers using ad blockers

Wikia is not accessible if you've made further modifications. Remove the custom ad blocker rule(s) and the page will load as expected.