Doctor Bryce Sabus is a characters from Wes Imlay's Ride of the Valkyrie story.
Ride of the Valkyrie
Edit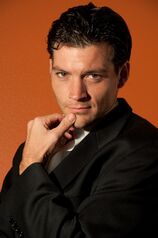 Dr. Bryce Sabus appears in Ride of the Valkyrie, where he attempt to steal Emily away from Scott. Bryce is from a former Nobility family and still act like he have that status even those it been over 50 years since those title was did away with. He also willing to hurt others to get what he want and seem not to feel guilt about it. In the Ride of the Valkyrie he injury Bridget Woods, so he could stay near Emily in the hope of stealing her away from Scott.
Ad blocker interference detected!
Wikia is a free-to-use site that makes money from advertising. We have a modified experience for viewers using ad blockers

Wikia is not accessible if you've made further modifications. Remove the custom ad blocker rule(s) and the page will load as expected.