The Clemson Class or Clemson Subclass Faststar is a Colonial Warship that appears in Dimension Five. It first is mention in the Flight of the Libran by Wes Imlay. Is is a subclass of the Tiger Class Faststar (D5).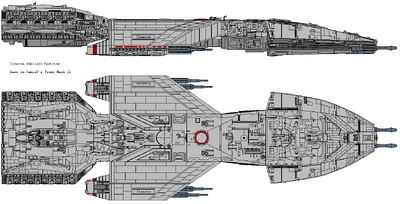 List of Known Clemson
Edit
Clemson
Robert Smith
Asturias
Velos
Psara
Cassin
Rathburne
Sigourney
Palaiologos
Warrington
Gerhardt
Aspis
Asturias
Velos,
Kanaris
Ariadni
Psara
Image is a modifited of CanisD, Tiger Mark II form Wolf Shipyards. Modifited was done by Allen Knott.
Ad blocker interference detected!
Wikia is a free-to-use site that makes money from advertising. We have a modified experience for viewers using ad blockers

Wikia is not accessible if you've made further modifications. Remove the custom ad blocker rule(s) and the page will load as expected.