Cyrene Class Battlestar base on the Valkyire but build on a great size, known as a Valkyrie on Steroid. It is a step between the Valkyrie Class Light Battlestar and the Mercury Class Battlestar.
List of Cyrene Class Battlestar
Edit
Cyrene
Electra
Hypatia
Indra
Luminere
Medusa
Pailyn
Perun
Tauron City
Vanguard
Warlock
Zarya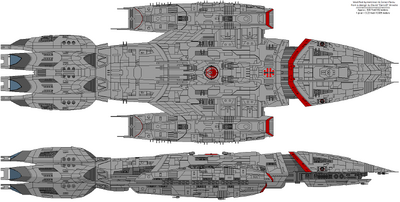 Images was created by Kamikazi.
Ad blocker interference detected!
Wikia is a free-to-use site that makes money from advertising. We have a modified experience for viewers using ad blockers

Wikia is not accessible if you've made further modifications. Remove the custom ad blocker rule(s) and the page will load as expected.