The Durga Class Battlestar is a class of Colonial warship.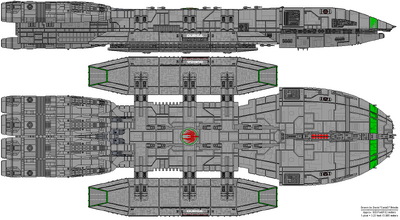 The Durga Class started out life as incomplete hull of Block II Indra Class. The work stop on the Block II, after the development of the new Heracles FTL drives.
Over the next twenty years, several time the incomplete hull was selected to be finish or converted into a new class of Battlestar. The incomplete hull was original going to be the Valkyrie till it was decide to start the Valkyrie with new hull. None of the attempt to finish or converted was ever successes.
However, after the development of the Mercury Class Battlestar, the twelve Block II hull was finially completed. The twelve hull serviced to test weather to new battlestar could be brought up to the same level as the Mercury Class Battlestar. It was decide that the time and money was to great to refitted battlestar, so it was decide by the Admiralty to decommissioning older battlestar and construction newer one.
By the time of Operation Downfall all of the Durga was decommissioning.
List of Durga
Edit
Durga
Celestial
Devi
Kali
Lakshmi
Mahavidya
Parvati
Radha
Saraswati
Sati
Shakti
Sita
Image is created by CanisD.
Ad blocker interference detected!
Wikia is a free-to-use site that makes money from advertising. We have a modified experience for viewers using ad blockers

Wikia is not accessible if you've made further modifications. Remove the custom ad blocker rule(s) and the page will load as expected.