The Hesperus-Class Command Ship, also known as the Hesperus-Class Marine Command Ship, is a Colonail vessel that appears in Battlestar Victorious (Series) and will appear in Battlestar Leonidas (Series).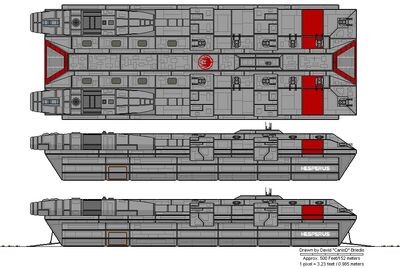 List of Hesperus
Edit
Hesperus
Bogue
Sabine River
Iram
Armazi
Hyperion Bay: Decommissioning D8
Black River - Decommissioning: D5 and D8
Gelorius
Malabar
Akakor
Quivira
Apollonia
Clifton Forge
Carpia
Vineta
Image created by CanisD.
Ad blocker interference detected!
Wikia is a free-to-use site that makes money from advertising. We have a modified experience for viewers using ad blockers

Wikia is not accessible if you've made further modifications. Remove the custom ad blocker rule(s) and the page will load as expected.