Indra Class Battlestar is a class of Colonial Battlestar.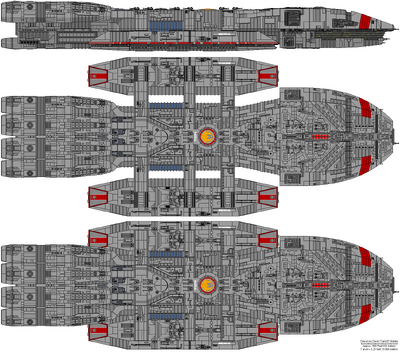 While the development of the Heracles in delay the Admiralty decision to construction the Indra Class Battlestar. Twelve was construction. After the completed of the last ship of it class, the Heracles improved FTL drive was finally perfect making retractable fight pods no longer a need. This would name the Indra the last class of Battlestar to have retractable flight pods.
List of Indra
Edit
Indra: The lead ship of it class. The Indra disappeared, while it located remain unknown. The Indra, Cyrene Class Battlestar was name in it honor.
Brahma
Deva
Ganesha
Hanuman
Krishna
Murugan
Navadurga
Rama
Shiva
Surua
Vishnu
Image is created by CanisD.
Ad blocker interference detected!
Wikia is a free-to-use site that makes money from advertising. We have a modified experience for viewers using ad blockers

Wikia is not accessible if you've made further modifications. Remove the custom ad blocker rule(s) and the page will load as expected.