Jane Bigglesworth is the daughter of an English Great War ace and unknown mother who died immediately after her birth. Her father, unsure of whether he could care for her while continuing to fly, sent her to British India to be brought up by her grandparents. She grew up in a large house cared and doted on by her Grandparents and Indian staff. A sporty girl who made friends easily among both the natives and her own community, she grew up in a rich home. Fed stories of her father's exploits from a young age, she resolved to become and aviatrix and took to flying as soon as she was allowed.
Her great passion is aviation and she bought a plane, took to giving lessons in her late teens- teaching the Raja of Tikohlee how to fly before organsing his 'luxury air fleet' of transports that would fly him between his his Palace and Delhi and on tours out to Europe. She left his services to travel to London just before the arrival and was in Berlin when reports came in of strange airship sightings. Off to investigate she took quickly towards the French border with Spain and snapped one of the first clear photos of a Colonial Airship and Viper escorts which she had to then dodge while there. A skilled flyer; she performs acrobatics amazingly well and is a keen navigator.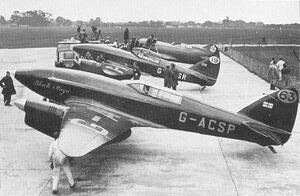 Jane Bigglesworth flies a de Havilland 'Asteroid', developed from the Comet, made famous as an air racer, but now uprated and further modified to suit her needs. It is a long range twin engine monoplane that is remarkably quick and nimble, suiting her needs as a personal coneyance and aerobatic airplane. It has an installed radio and camera but no machine guns as yet- she has considered adding them recently. Capable of seating the pilot and a passenger comfortably behind, the cockpit is large and affords good all round visibility.
Ad blocker interference detected!
Wikia is a free-to-use site that makes money from advertising. We have a modified experience for viewers using ad blockers

Wikia is not accessible if you've made further modifications. Remove the custom ad blocker rule(s) and the page will load as expected.