The JUNO is a Protector Class Battlecruiser in the Battlestar Hyperion Series within the Battlestar Hyperion's universe written by Jim Quigley.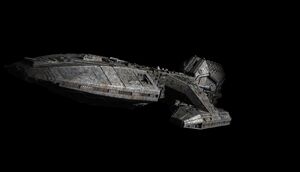 JUNO suffered heavy damage during the Cylon offensive, but was able to escape undetected during the conflict over Picon and rendezvous at Leonis.
Part of a convoy that found the battlestar HYPERION within the Hatari Nebula after leaving Leonis.
Current Command Crew
Edit
Cmdr Matthew Jones – 52-years old.
Received field promotion to Commander of JUNO after cylon attack.
Executive Officer of Battlecruiser TRINITY prior to cylon attack in Hatari Sector
Colonel Joseph Brice – 36-year-old Executive Officer.
Lt. Leigh Barnes – Tactical Officer
Capt. Susan Flood - Chief Medical Officer CPO Conner Marshall – Chief Petty Officer in charge of all deck crews.
Ad blocker interference detected!
Wikia is a free-to-use site that makes money from advertising. We have a modified experience for viewers using ad blockers

Wikia is not accessible if you've made further modifications. Remove the custom ad blocker rule(s) and the page will load as expected.