Koiner Class Patrol Frigate is a class of Colonial Warship.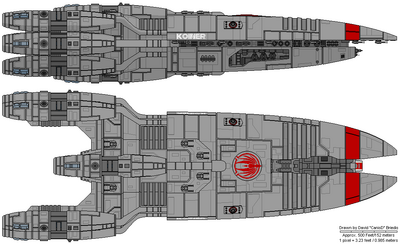 Design Overview
Edit
The Koiner Class Patrol Frigate is design for one thing: speed. It carries no Viper, only a few Raptors and Shuttles. Because of it status as a patrol frigate it carries no missile just railguns. The Koiner also carries Unmanned Reconnaissance Drone (URD).
List of Koiner
Edit
Koiner
Agrona
Amasen
Cessair
Chalcedon
Eronon
Matrona
Lasair
Seras
Image is created by CanisD.
Ad blocker interference detected!
Wikia is a free-to-use site that makes money from advertising. We have a modified experience for viewers using ad blockers

Wikia is not accessible if you've made further modifications. Remove the custom ad blocker rule(s) and the page will load as expected.