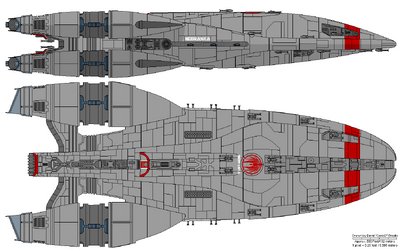 The Nebraska Class Destroyer is a class of colonial warships. Part of the Admiralty's Moderinzation Program. The Nebraska Class Destroyer is one of the most advance ship in the Colonial Fleet. Only six of them have being build before Operation Homecoming. Nebraska enters service six months before Operation Homecoming.
The Nebraska Class Destroyer was funded by cutting the fund of the Tiger Class Destroyer Mark IV which was on the drawing board at the time of the fall.
List of Nebraska
Edit
Nebraska
Mitchell
Woodward
McDougal
Powell
Stein
Image is created by CanisD.
Ad blocker interference detected!
Wikia is a free-to-use site that makes money from advertising. We have a modified experience for viewers using ad blockers

Wikia is not accessible if you've made further modifications. Remove the custom ad blocker rule(s) and the page will load as expected.