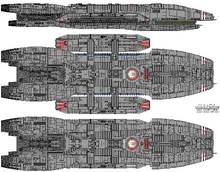 The Olduvai-subclass battlestar is a subclass of the Galactica-class battlestar from the First Cylon War. Put into service near the end of the First Cylon War, Olduvai-subclasses were used as a front line Colonial ship for thirty five years after the First Cylon War.
The ship is 1,315 meters in length and 521 meters in width. The armament is as follows; twenty two heavy anti-ship dual mounted turrets, eighteen ship-to-ship missile batteries, and five hundred and two point defense batteries. At maximum capacity, the ship can carry 3,400 men and women and 140 Vipers.
The ships were decommissioned from the Active Fleet and the final example of the Olduvai-subclass is the Remnant Fleet's recommissioned flagship, Atromitos.
Ad blocker interference detected!
Wikia is a free-to-use site that makes money from advertising. We have a modified experience for viewers using ad blockers

Wikia is not accessible if you've made further modifications. Remove the custom ad blocker rule(s) and the page will load as expected.