The Poseidon Class Heavy Battlestar is a class of colonial warship in the Battlestar Leonidas's Universe. It set the stage for the Titan Class Super Heavy Battlestar. The lead ship, the Poseidon enters service short after the retirement of the Poseidon, Poseidon Subclass Light Battlestar. It is able to carry 320 Vipers or 16 Viper Squadrons and 80 Raptors.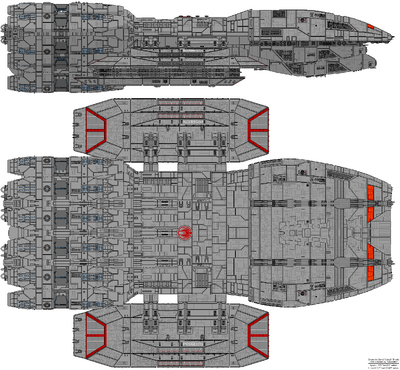 Known Poseidon Class Heavy Battlestar
Edit
Poseidon
Aphrodite
Argus
Artemis
Demeter
Dionysus
Eos
Hades
Hephaestus
Hera
Hestia
Zeus
Images was created by CanisD and found on his website Wolf Shipyards.
Ad blocker interference detected!
Wikia is a free-to-use site that makes money from advertising. We have a modified experience for viewers using ad blockers

Wikia is not accessible if you've made further modifications. Remove the custom ad blocker rule(s) and the page will load as expected.