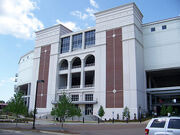 Vaught–Hemingway Fleet Air Station, known as "The Cradle of Colonial Fleet Aviation", is a planet-based air base of the Colonial Fleet located in Oxford, Caprica. It serves as both an active military base and a training ground for future Viper and Raptor pilots. Lieutenant Colonel Artimus Bowman was assigned here as a Raptor instructor following the events of 'Ride of the Valkyrie' along with Chief Robert Imlay.
The base was commissioned fifty-three years BTF as a base for the Caprica Army. At the time it was known as Fort Robbins, it would not undergo a name change until after Caprica ratified the Articles of Colonization. It was then that Fort Robbins was taken over and renamed 'Vaught-Hemingway', it served as the test bed for the various designs of Vipers and Raptors.
The air station also hosts the Fleet Air and Operational Medical Institute, which provides training for all fleet flight surgeons, aviation physiologists, aviation experimental psychologists. Vaught-Hemingway contains Paul Conrad Field, home of Training Air Wing Six, providing undergraduate flight training for all prospective Flight Officers for the Colonial Fleet.
At the time of the Fall the base was under the command of Commander Kiernan O'Conner.
Ad blocker interference detected!
Wikia is a free-to-use site that makes money from advertising. We have a modified experience for viewers using ad blockers

Wikia is not accessible if you've made further modifications. Remove the custom ad blocker rule(s) and the page will load as expected.