Wekesa Hiawatha
character image
Vital statistics
Aliases/Nicknames:
Boomer
Birthplace:
Leonis
Home Colony:
Caprica
Species:
Human
Gender:
Male
Birthdate:
September 28, 1935
Hair Color:
Black
Eye Color:
Black
Posting:
None - Civilian
Position:
None - Civilian
Rank:
Lieutenant (Retired)
Family
Mother:
Unknown
Father:
Unknown
Brother(s):
Unknown
Sister(s):
Unknown
Maternal Grandmother:
Unknown
Maternal Grandfather:
Unknown
Paternal Grandmother:
Unknown
Paternal Grandfather:
Unknown
Spouse(s):
Deitra Hiawatha
Children:
Cheo - Daughter

Todd - Son Walker - Son

Personal Weapons Systems
Chronological & Political Information
Era(s):
First Cylon War

Second Cylon War
Wekesa 'Boomer' Hiawatha is a characters from Allen Knott's Battlestar Leonidas (Story).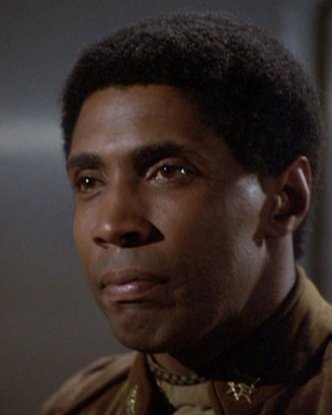 Born on Leonis on Saturday, September 28, 1935 A.E. (65 years before Operation Homecoming).
He serviced onboard the Battlestar Rycon before it destruction. Then serviced on the Battlestar Galactica.
He is marry to Deitra Hiawatha who he meet aboard the Galactica. Boomer and Deitra have three children together; a daughter named Cheo, and two sons, Todd and Walker.
He would later moved from Leonis to Caprica.
Wekesa's callsign, Boomer, was later givng to Sharon Valerii, by Commander William Adama; someone Boomer serviced with during the First Cylon War.
Wekesa "
Boomer
" Hiawatha is base on
Boomer (TOS)
Ad blocker interference detected!
Wikia is a free-to-use site that makes money from advertising. We have a modified experience for viewers using ad blockers

Wikia is not accessible if you've made further modifications. Remove the custom ad blocker rule(s) and the page will load as expected.